From our experience in medical consulting and dental consulting we know that employee salary, bonuses, and raises are a strategic way to motivate your best employees to stay and your poor performing employees to leave. If done smartly, your poor performing employees will leave on their own without requiring you to let them go and the subsequent pain involved from firing and/or paying federal unemployment. Firing is painful and hopefully, that is motivation enough to be smart in how you reward all your practice employees.
In order to do this, you are going to need at least three things. The first is performance history. Performance history can be done by tracking the good and bad for each employee over the year. 
Here are some of the elements that we recommend you include in your calculation:
Current Pay
It is typical for increases to be based on a % of what the employee makes whether salary or hourly.
Awarding higher percentages for your best employees is recommended as opposed to assigning the same percentage across the board.
Longevity
It is typical for increases to be based on how long the employee has been with you.
An employee's loyalty to your practice is a major factor to consider when determining who your best employees are.
Responsibility
Has the employee maxed out at their current job responsibility?
If so, are they so awesome that you are willing to go higher?
Perhaps not because higher pay is permanent but a one time bonus might be worth consideration.
Exclusion
You may want to exclude new employees or employees with poor performance from raises.
An example would be employees who have been with your practice for less than 6 months are not eligible for a raise.
% of Collections
For staff salaries, excluding doctors, the pay should stay within some percentage of collections, this will help determine the practice budget for raises.
Generally, depending on your specialty the percentage should be between 15% and no more than 30% of collections.
One Time Bonus
As mentioned, perhaps the employee is deserving of a raise but it doesn't make sense for the type of work they do and a one time bonus makes more sense.
Perhaps they get a raise and a one time bonus.
Simulation
Then you need to combine all of these elements to determine how much you are going to pay each employee to stay within the budget you can afford.
Thought the average might be 2% or 3%, some might get 0% increases and others 5%.
This will be a trial and error effort as you calibrate it to make sense.
While doing the calibration you will do much reflection on your employees so be as honest and as objective, as you can.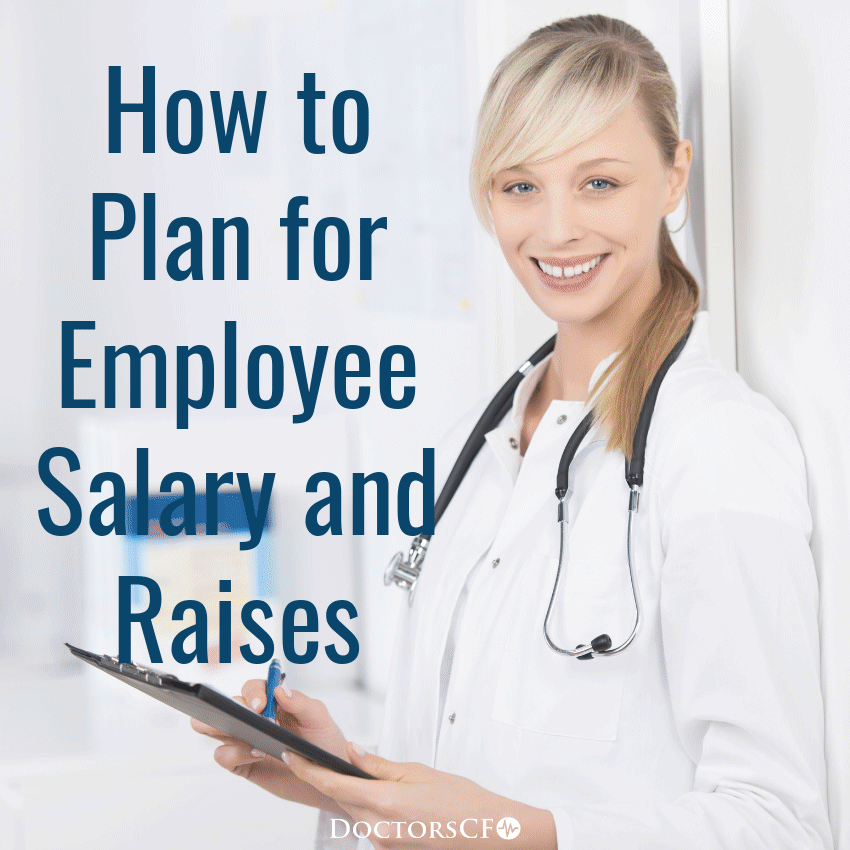 To participate in this week's poll, please subscribe to our mailing list ad follow us on Instagram. "When Giving Raises, Do You Award All Employees With the Same Percentage Increase?"
Prior Article Poll Results
Our previous article asked the question "If You Had the Opportunity to Hire This Person Again,, Would You? " This is the single most important question to take ask yourself when considering employee raises. Our poll asked "What Do You Commonly Base Your Employee Raises On?" Based on the responses we received, 16.7 % go with gut feeling, 33.3% look at time of service, 0% look at current pay and job function, while 50% say they take all of these categories into consideration.
The reason we are publishing these articles is so that your office can increase its success. We appreciate your feedback on how we can help you more and love it when you pass these articles along to other practice owners and office managers. 
Developing a management report is not easy and Doctors CFO currently has a robust model for most practice types that is customized for our monthly and bi-monthly clients. If you have questions on how this model applies to your practice or you are interested in applying the Doctors CFO model in your practice, via one of our annual, bi-monthly or monthly assessments, please contact us.
(c) 2019 Doctors CFO, All Rights Reserved.